THE ST. REGIS BANGKOK WEDDING FAIR 2018
Saturday, 4 August | 11:00 AM - 7:00 PM | Level 14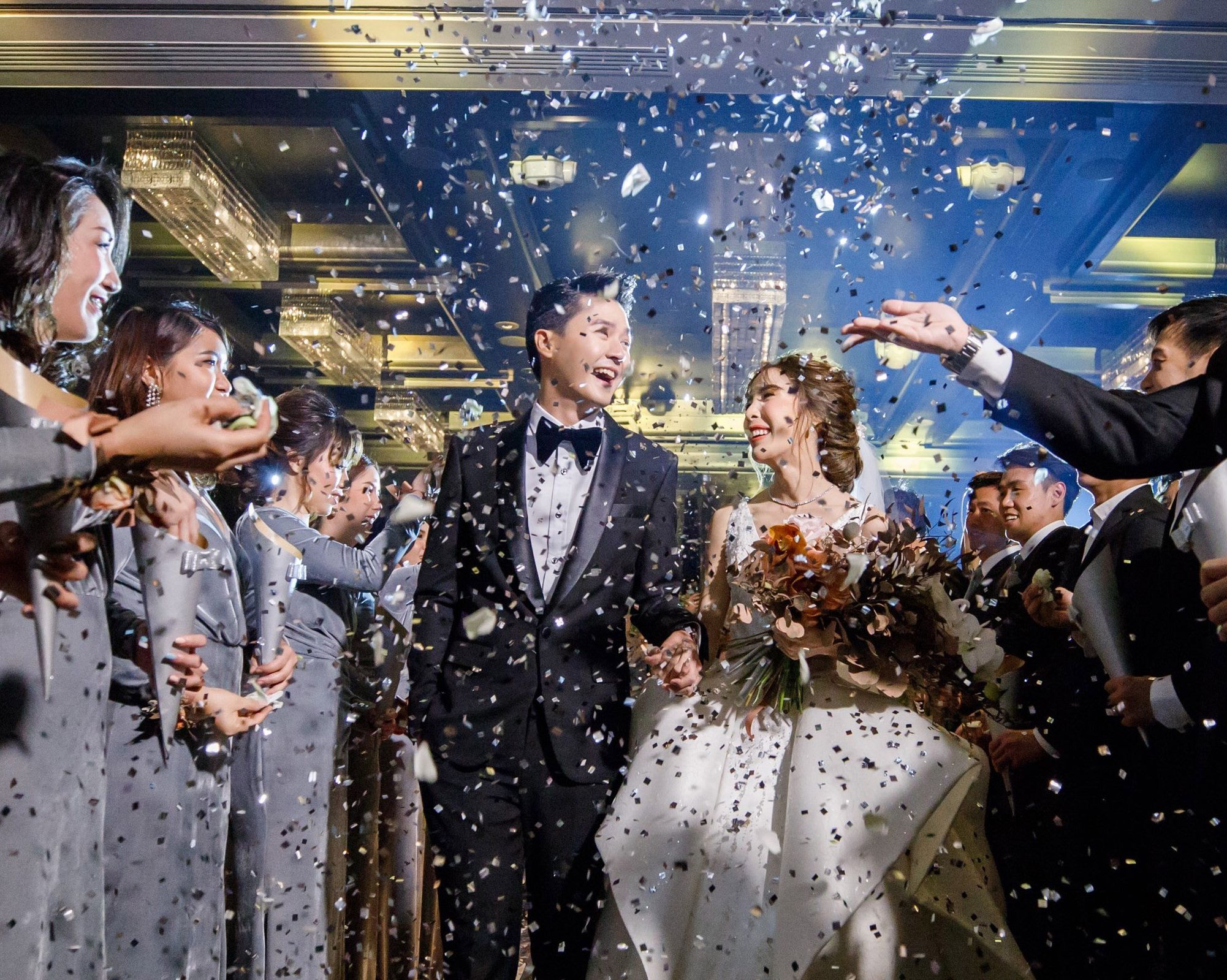 [ Pre-register your details by August 3, 2018 at 3:00 PM and receive a complimentary gift at The St. Regis Bangkok Wedding Fair ]
Make The St. Regis Bangkok your dream-wedding and engagement venue. Preview highlights of intricately crafted weddings, and consult with our wedding experts. Discover a host of limited-edition benefits* for same-day confirmed bookings, including discounts on décor, food and corkage fees.
For wedding packages starting from THB 750,000 net, couples can choose a complimentary Chinese or Thai engagement ceremony for up to 50 people, or a complimentary after-party package for up to 100 people, valued at THB 80,000 net.
*Terms & conditions apply.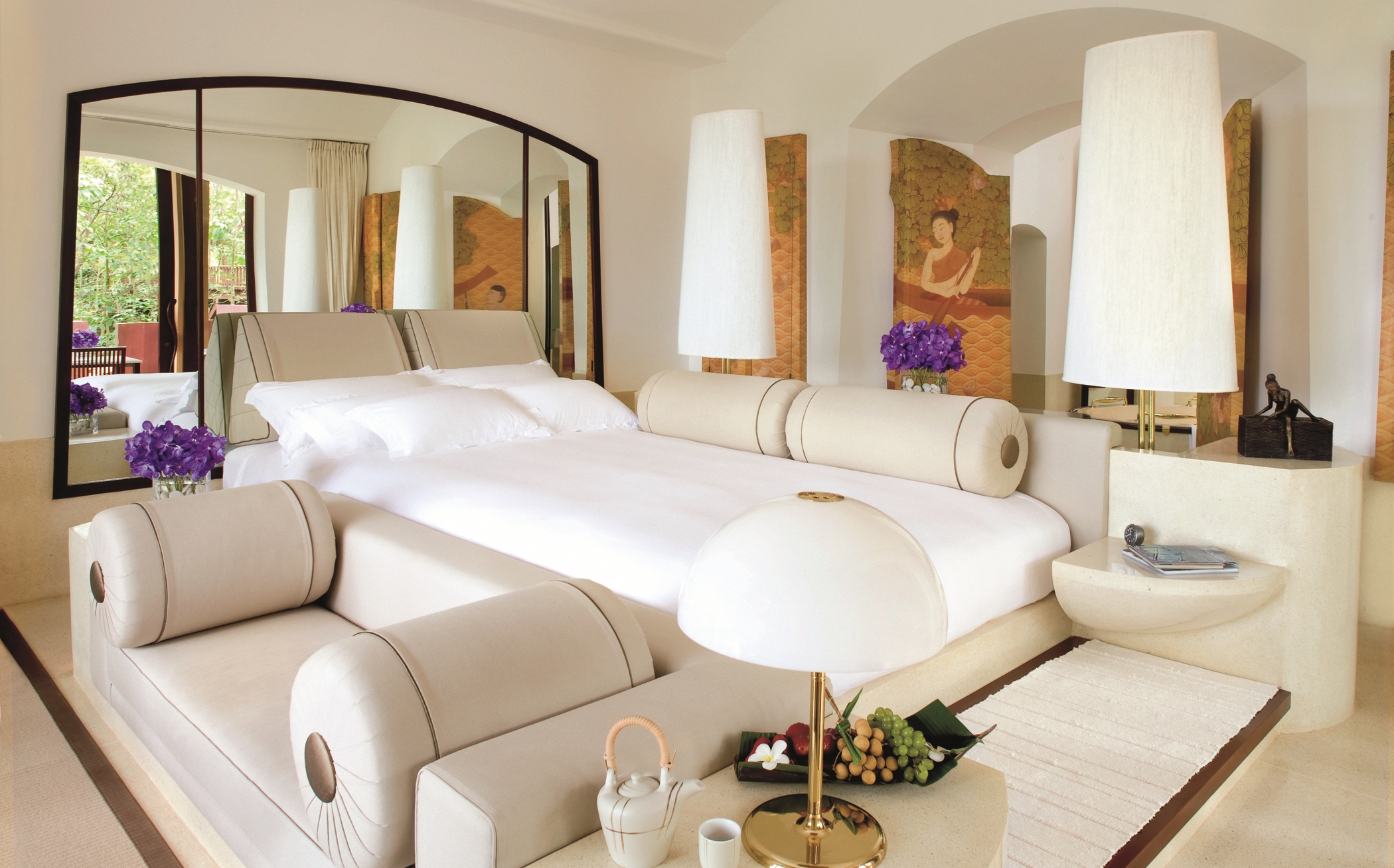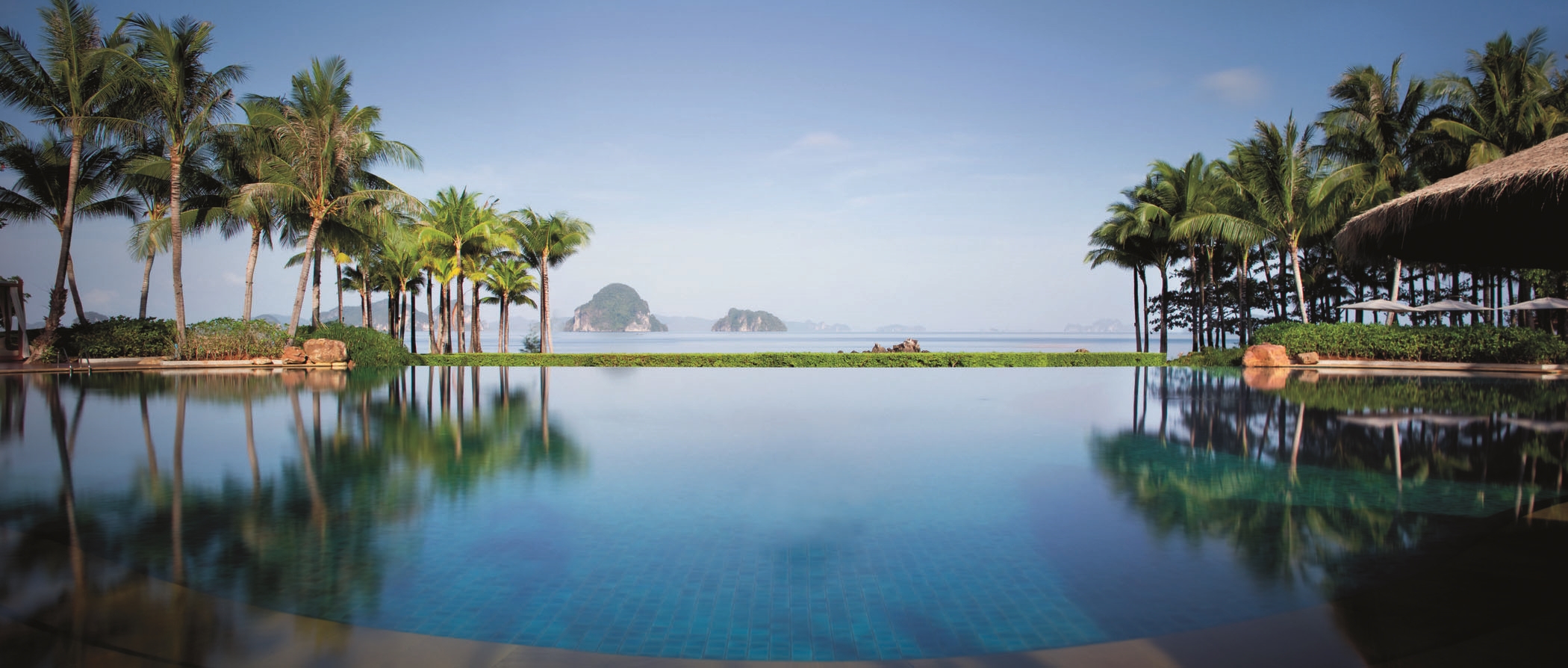 EXCLUSIVE BENEFITS
Krungsri card members can also receive further advantages, for the top spender receiving a honeymoon package with a 2-night stay in Phulay Bay, a Ritz-Carlton Reserve in Krabi, inclusive of breakfast and round trip airport transfers between Krabi International Airport to Hotel, as well as a range of incredible privileges and up to 20,000 additional bonus points, for same-day deposits paid in the amount of THB 200,000, THB 300,000 and THB 400,000.
THANKING OUR PARTNERS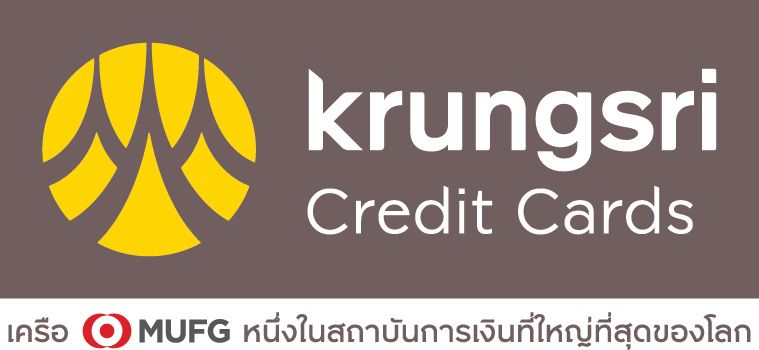 Enchanting Weddings at The St. Regis Bangkok
From bespoke flower arrangements and captivating venues to custom catering and a personal St. Regis Specialist, we provide all of the elements necessary to surpass your expectations and create an enchanting occasion.
CLICK HERE to explore our Wedding and Ceremony Packages
Please contact our Wedding Specialist for more information.
Phone: (66)(2) 207 7777
Email: events.bangkok@stregis.com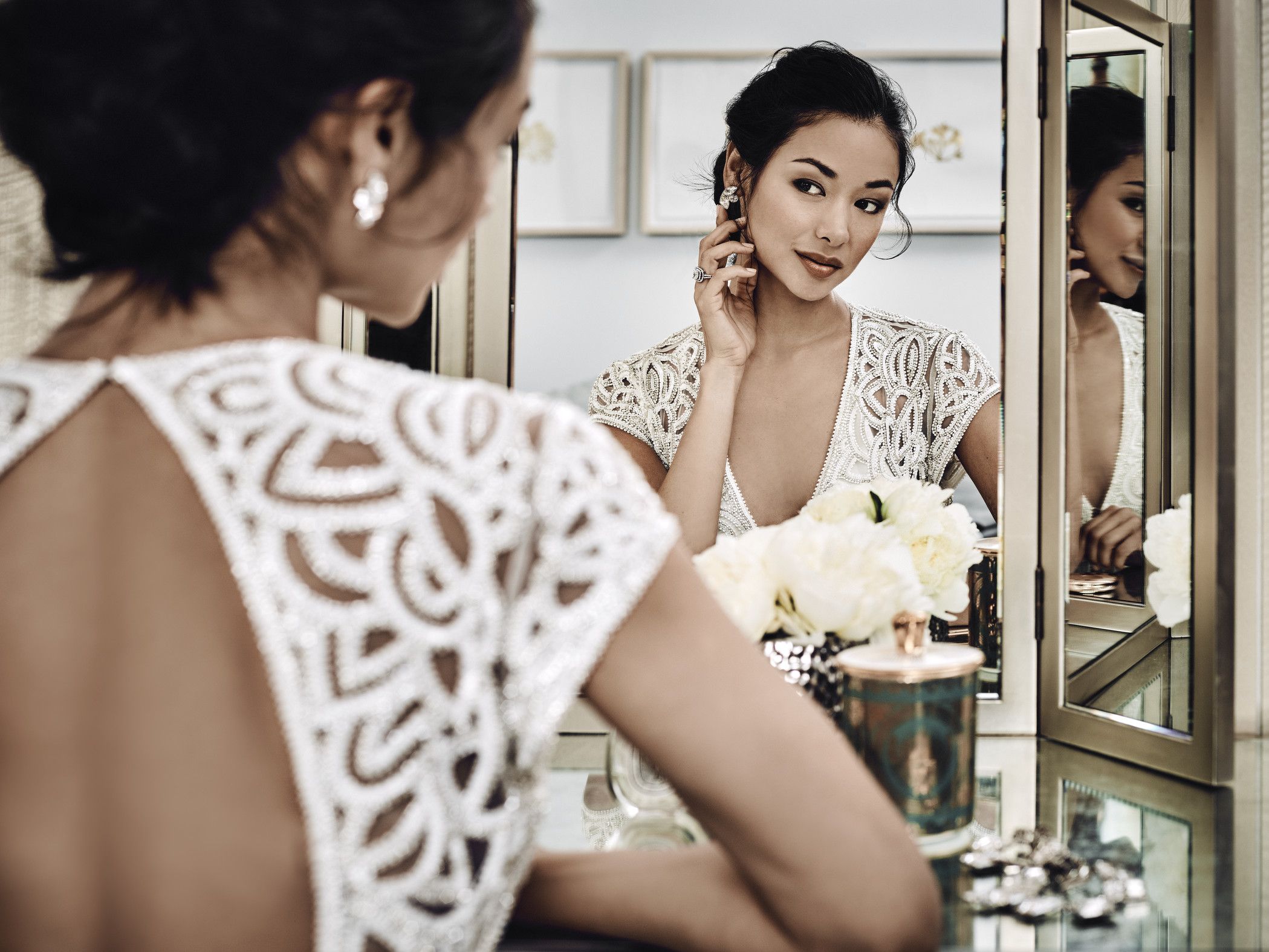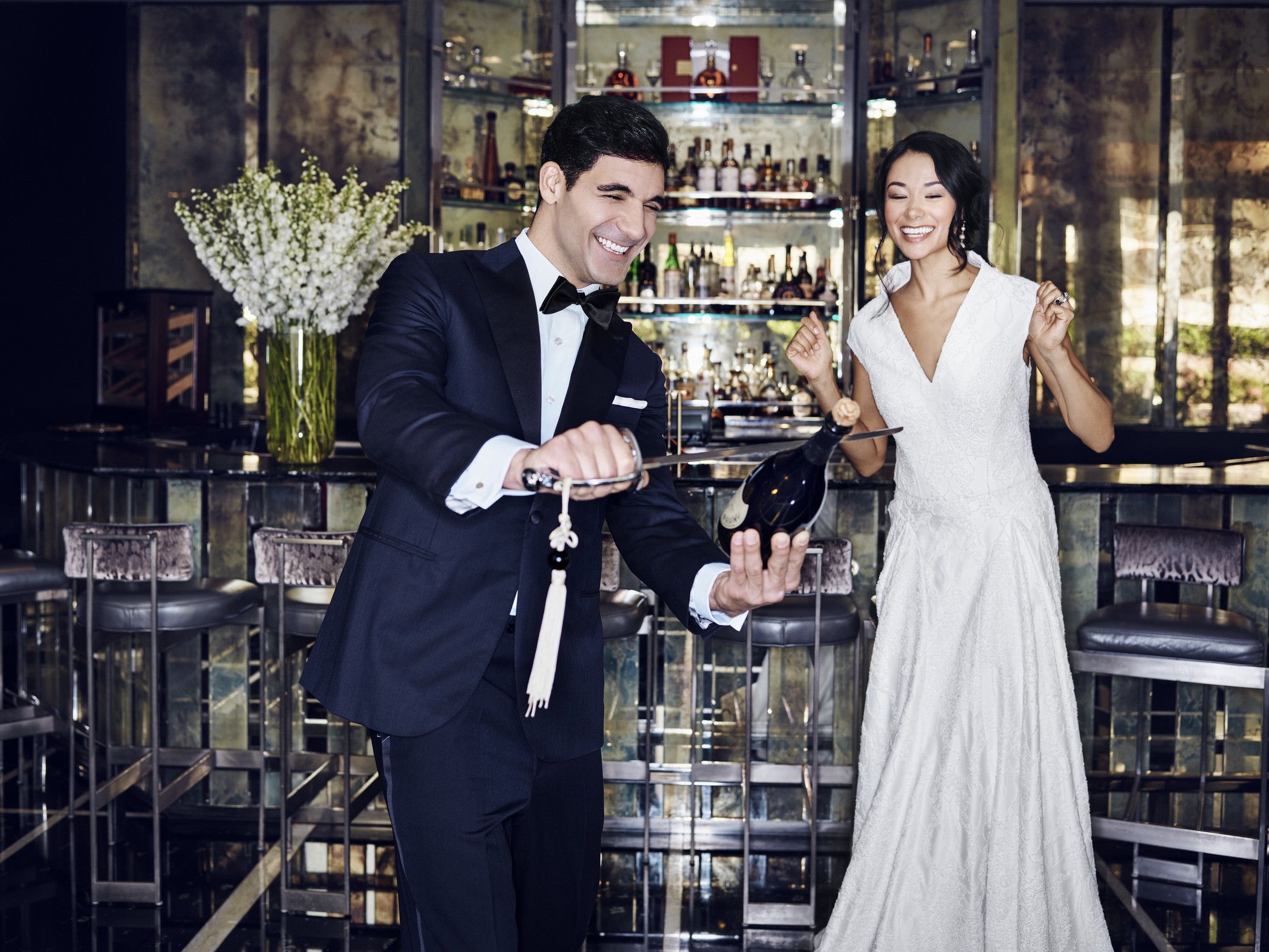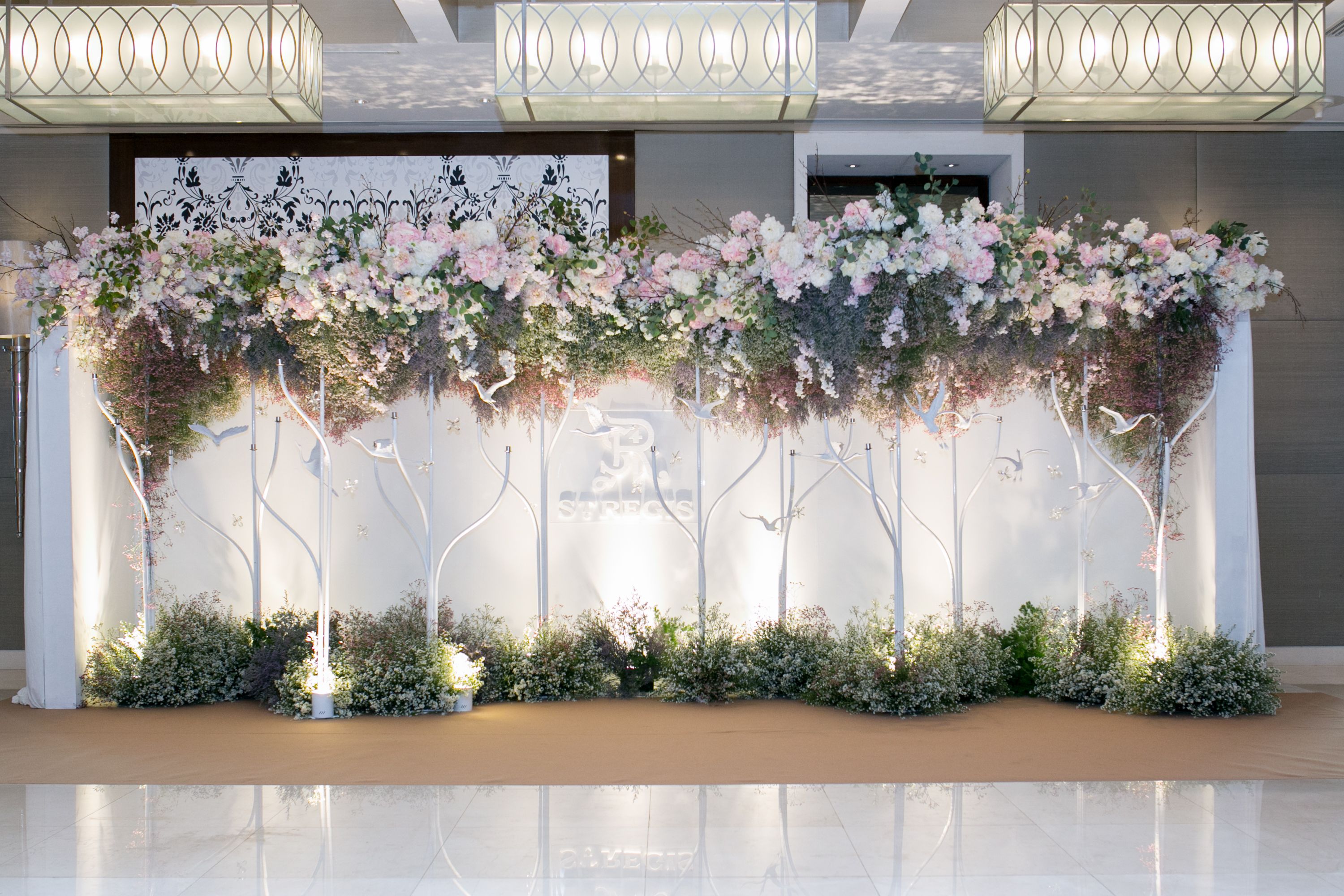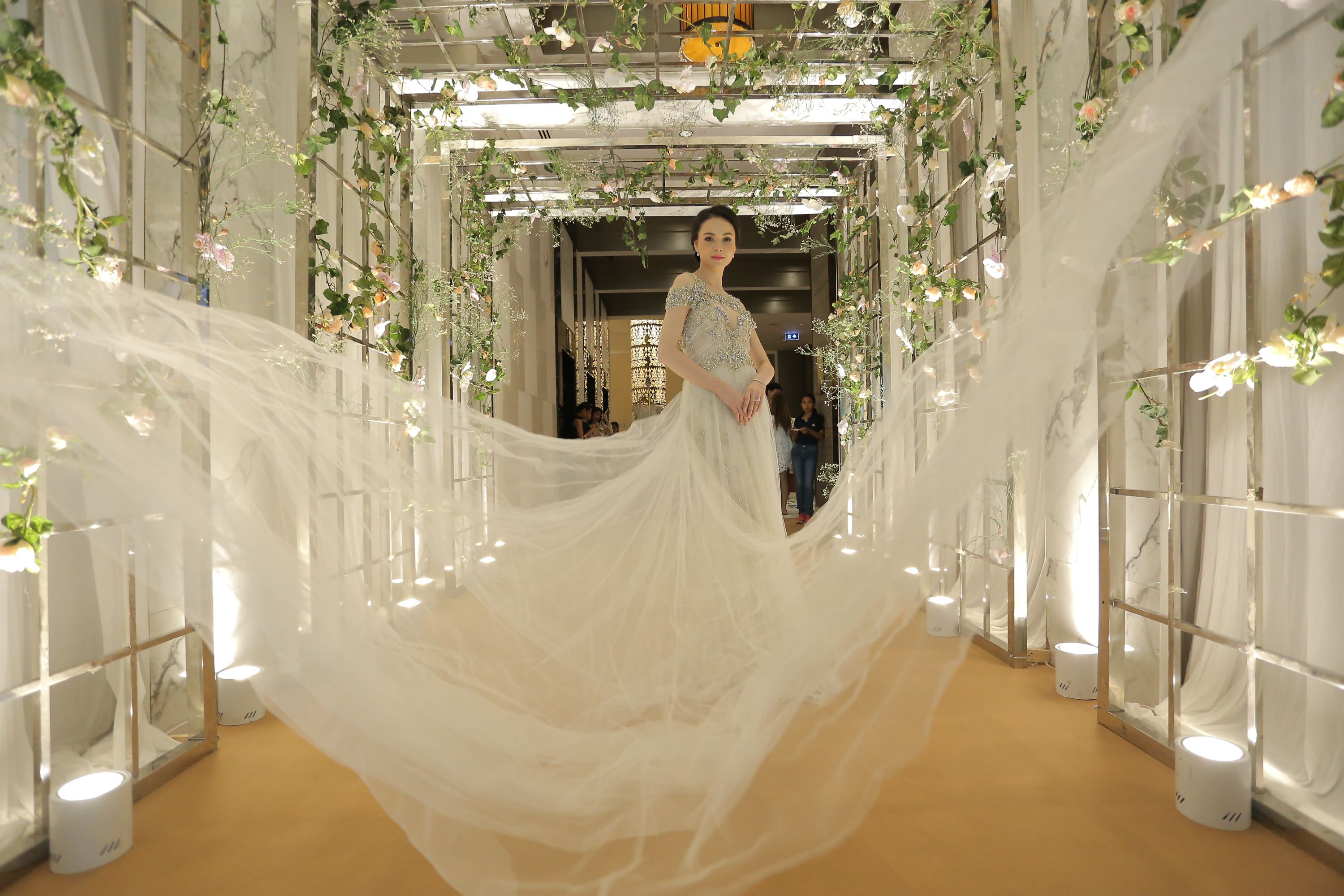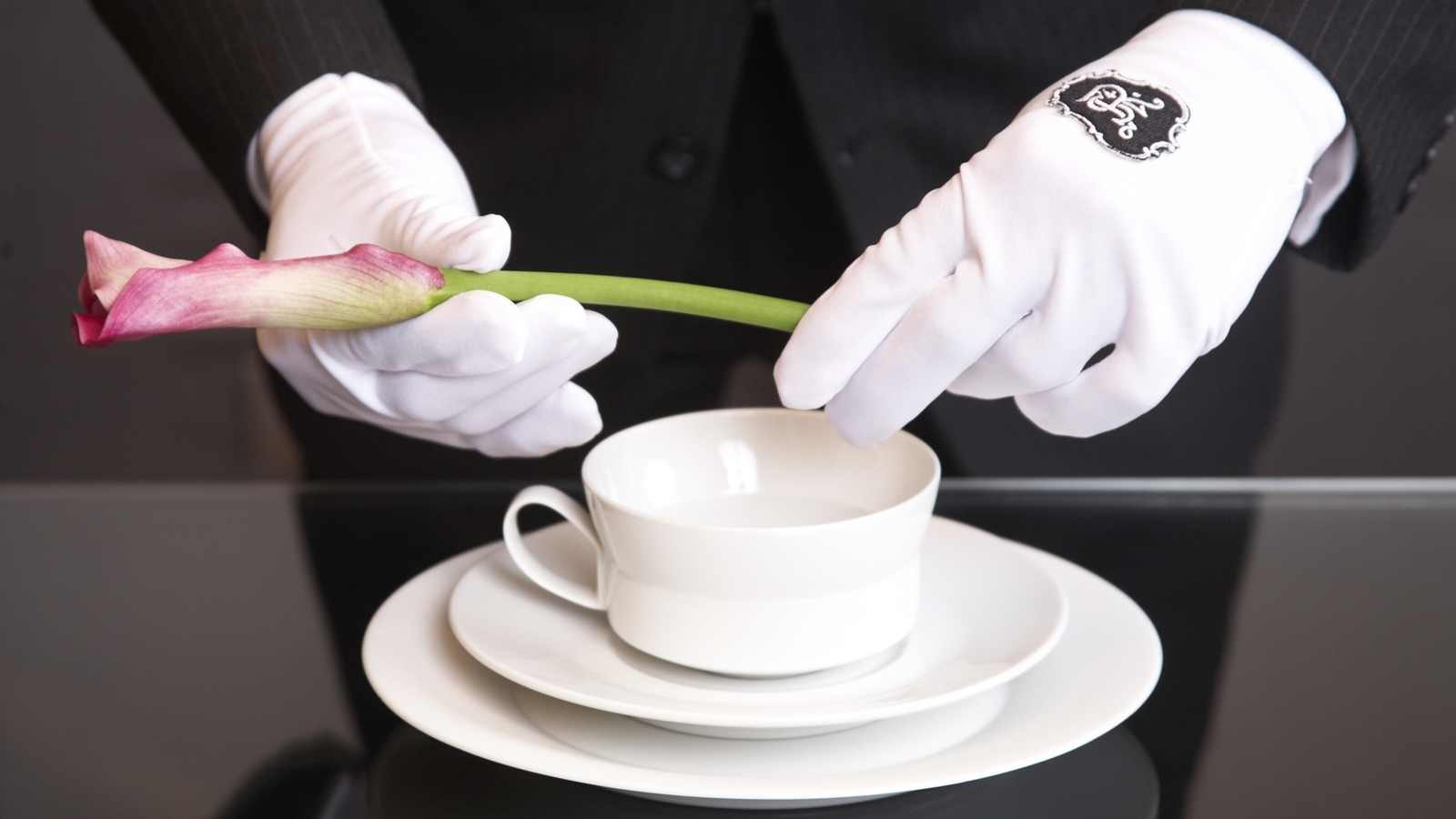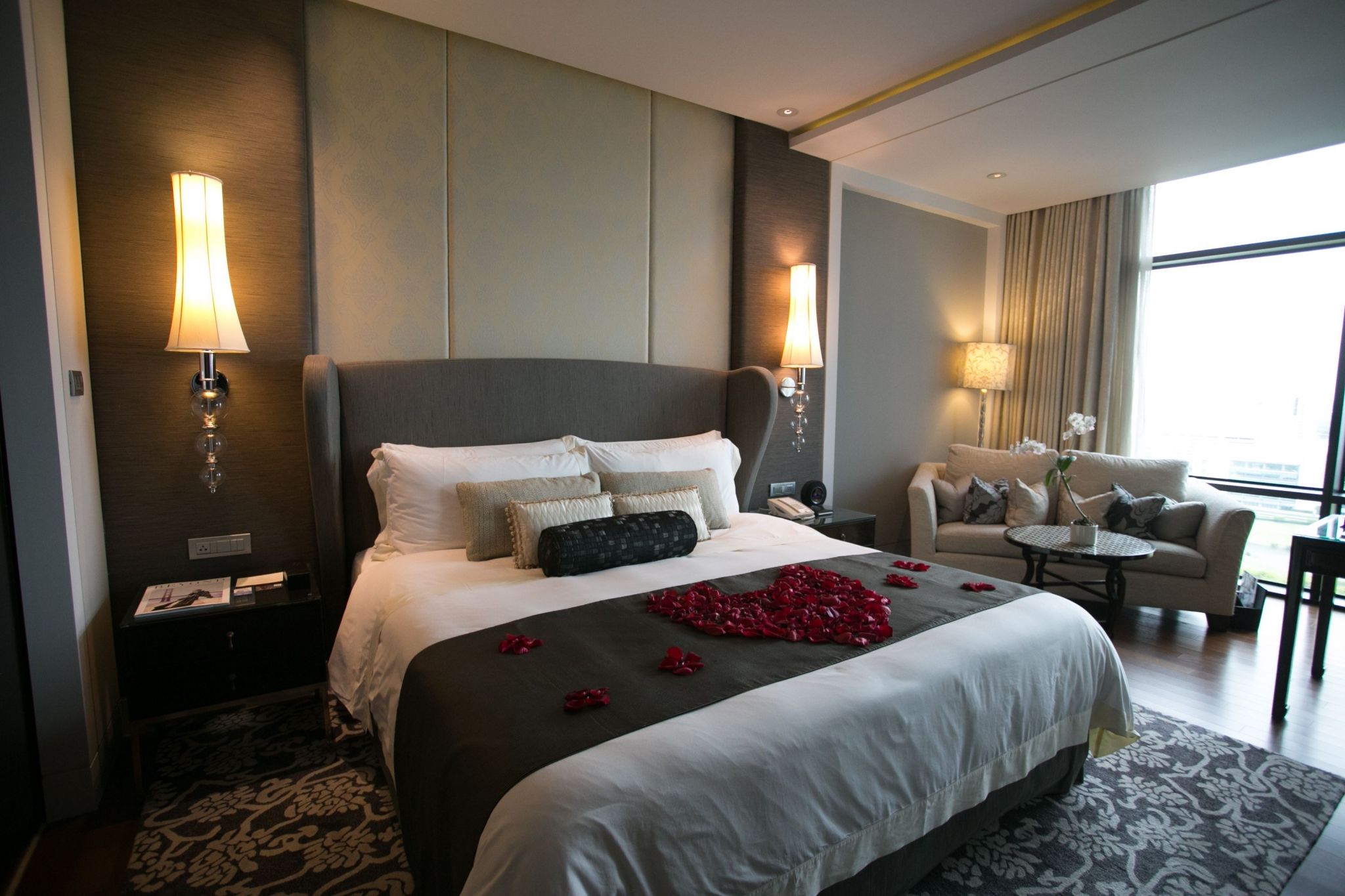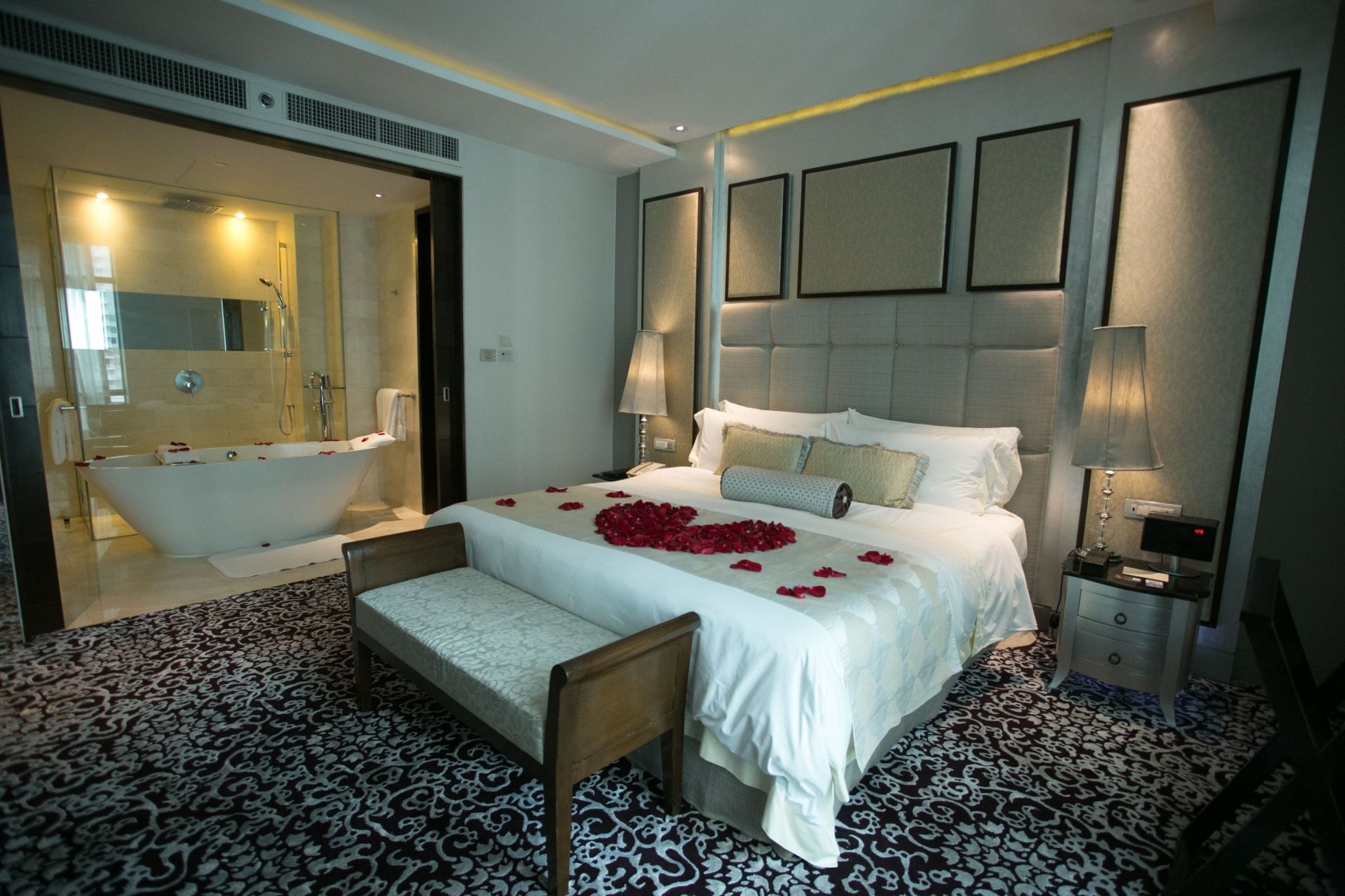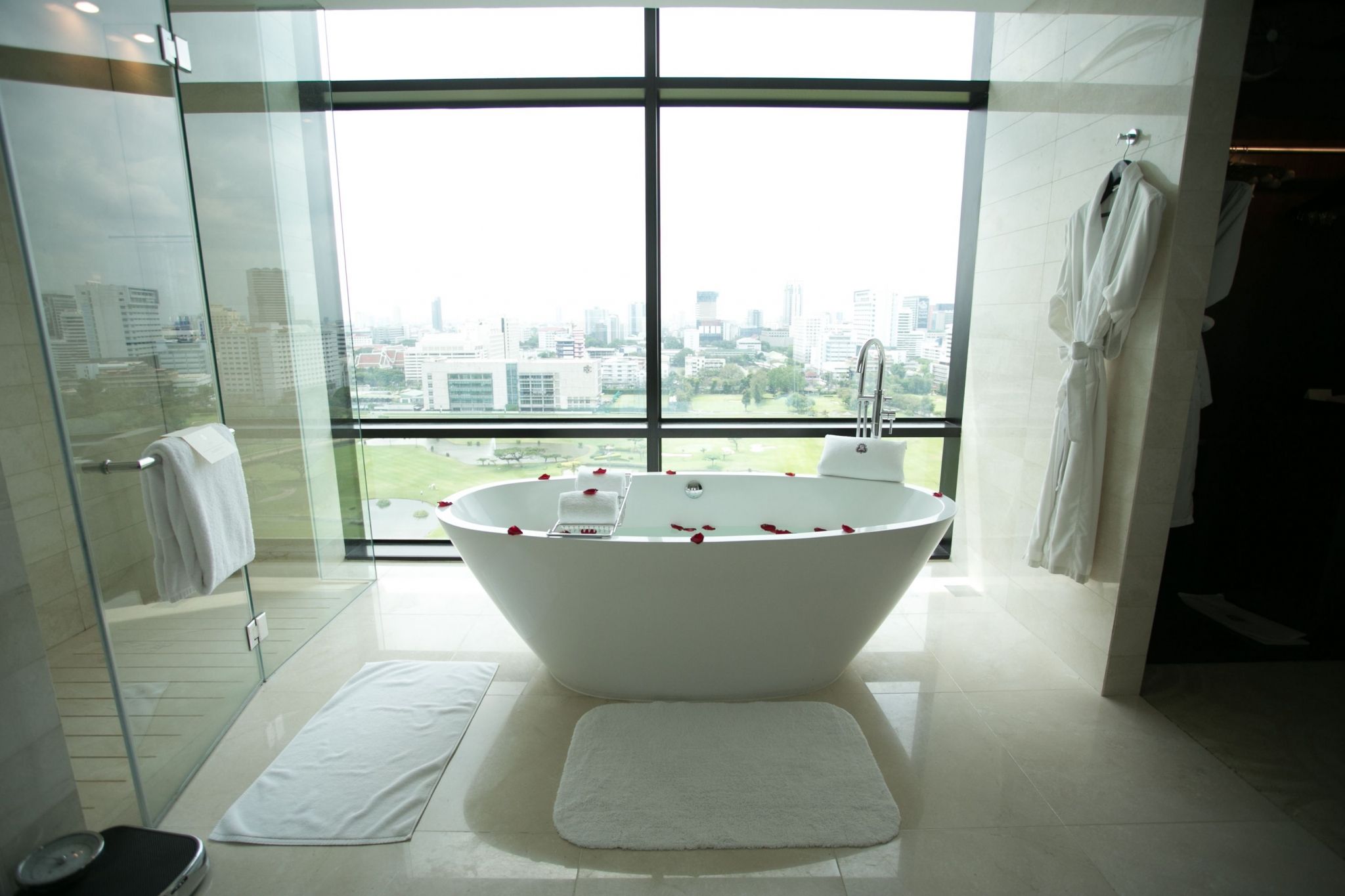 THE ADDRESS
With a prestigious location along Rajadamri Road, The St. Regis Bangkok offers the true art of living - from unique gourmand adventures and savoring the very best vintages from our wine cellar to personalized indulgences at the exclusive Elemis Spa.
Exquisitely styled and lavishly appointed, our 228 guest rooms and suites redefine luxury in Bangkok in timeless elegance. Experience our legendary service while enjoying discreet attention from the signature St. Regis Butlers, who will flawlessly attend to every request 24 hours a day.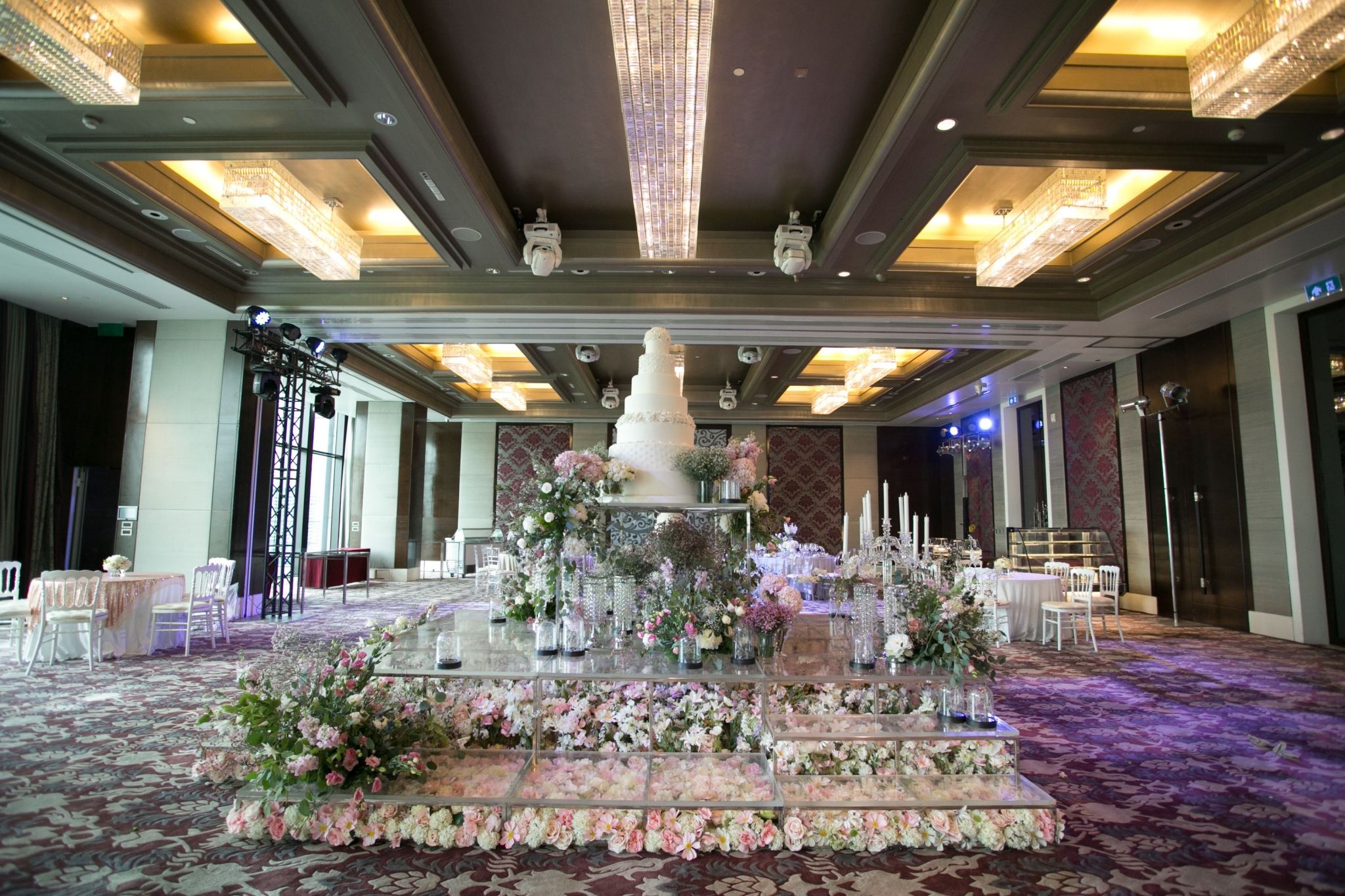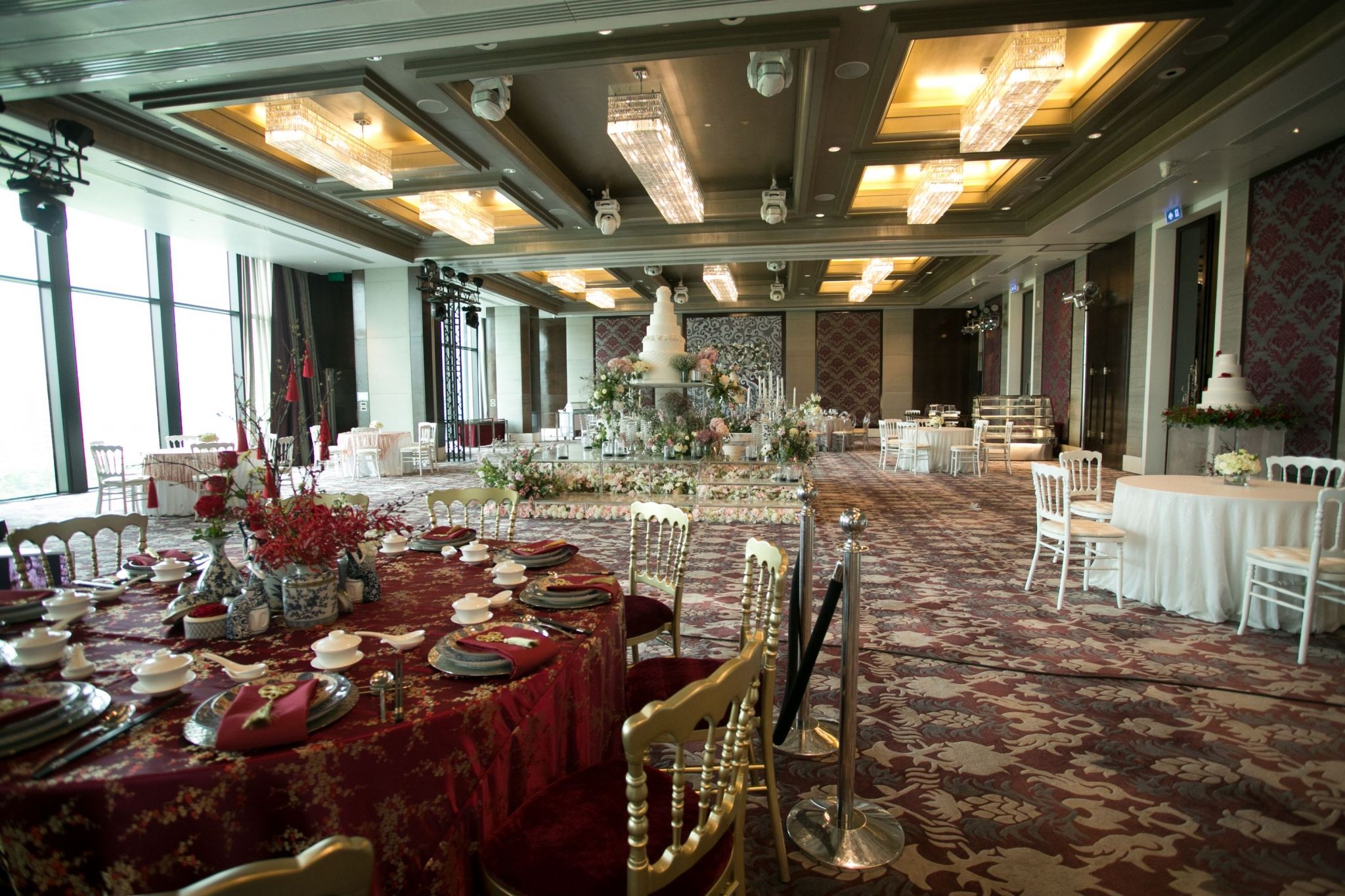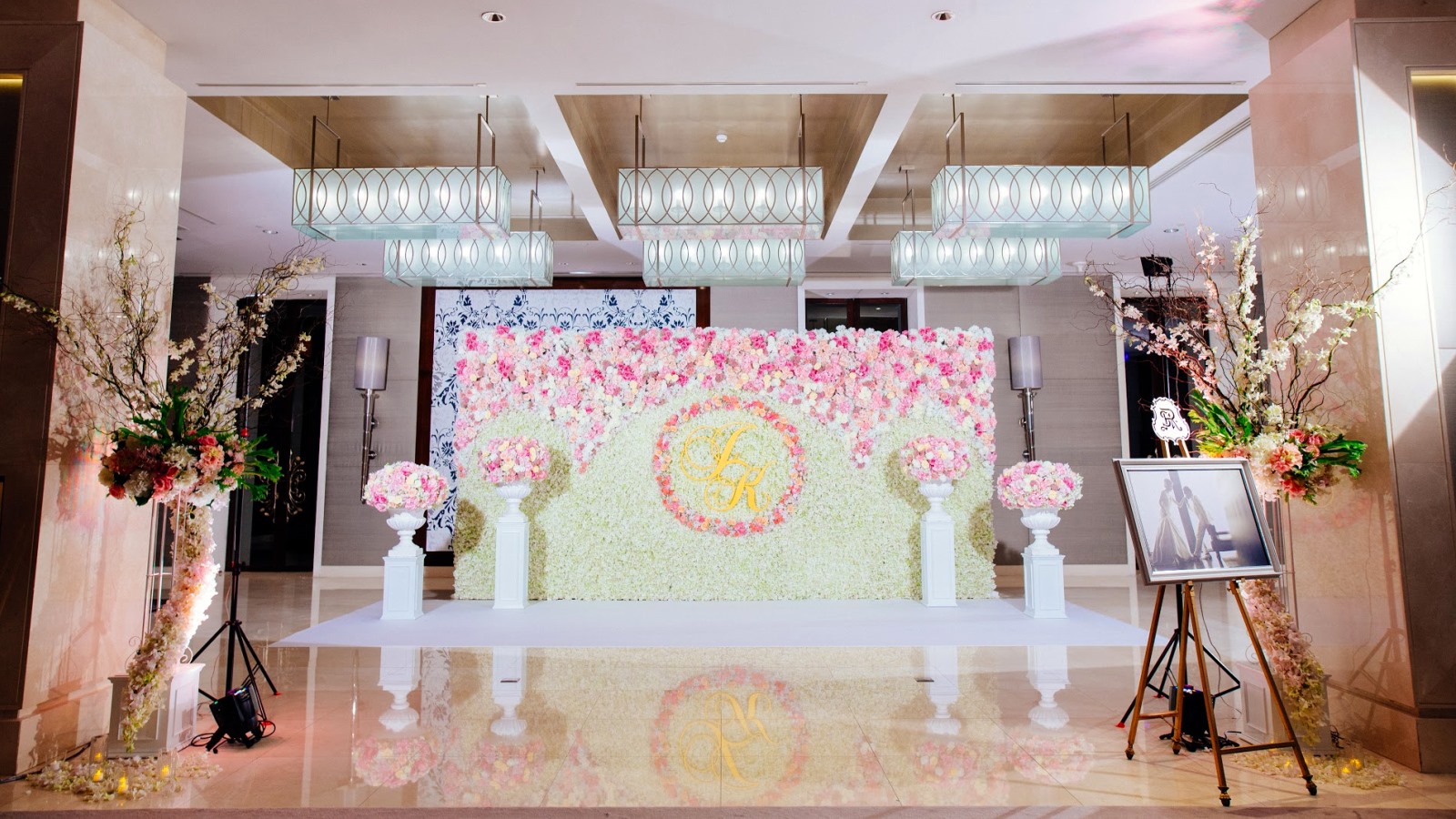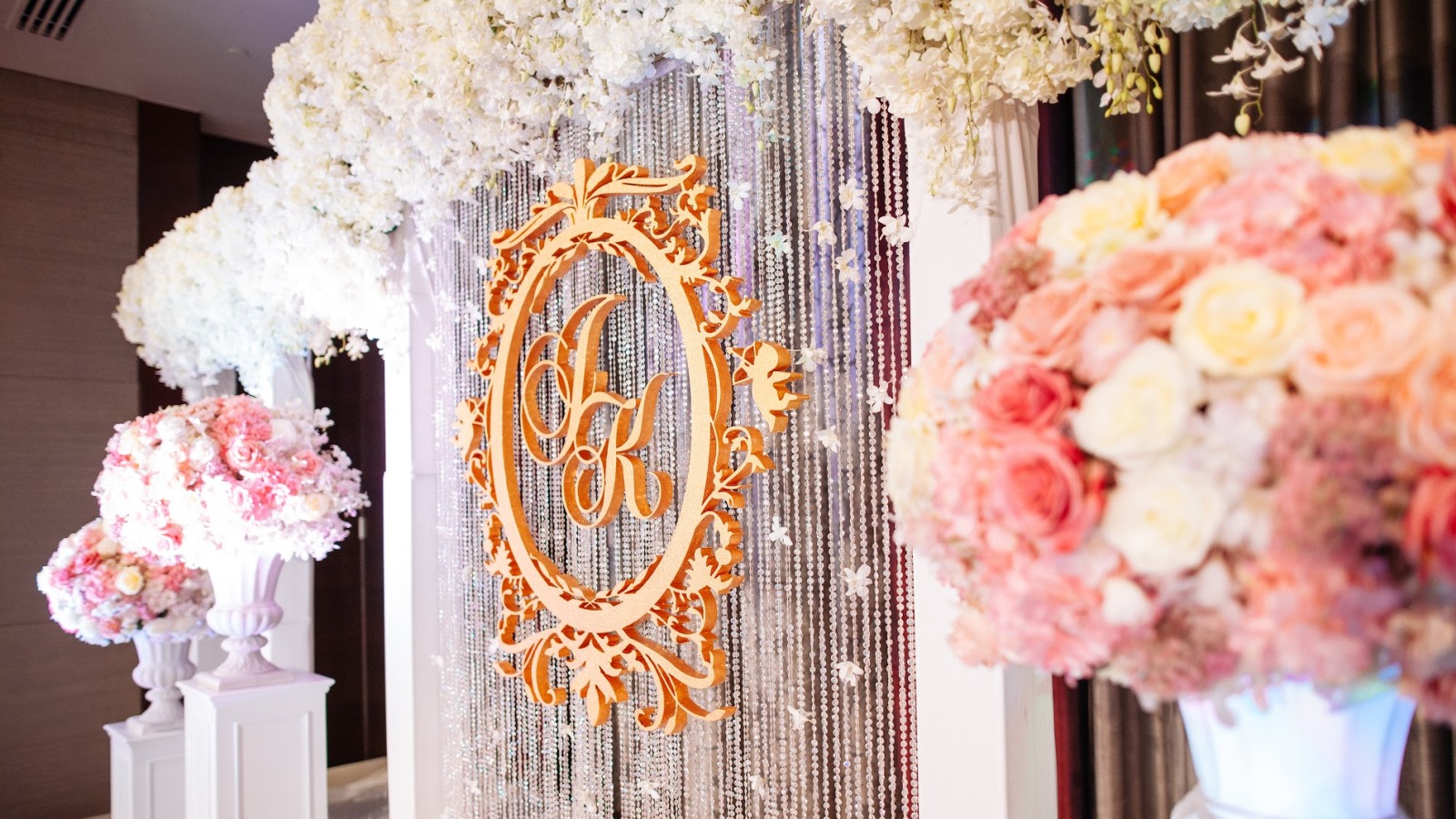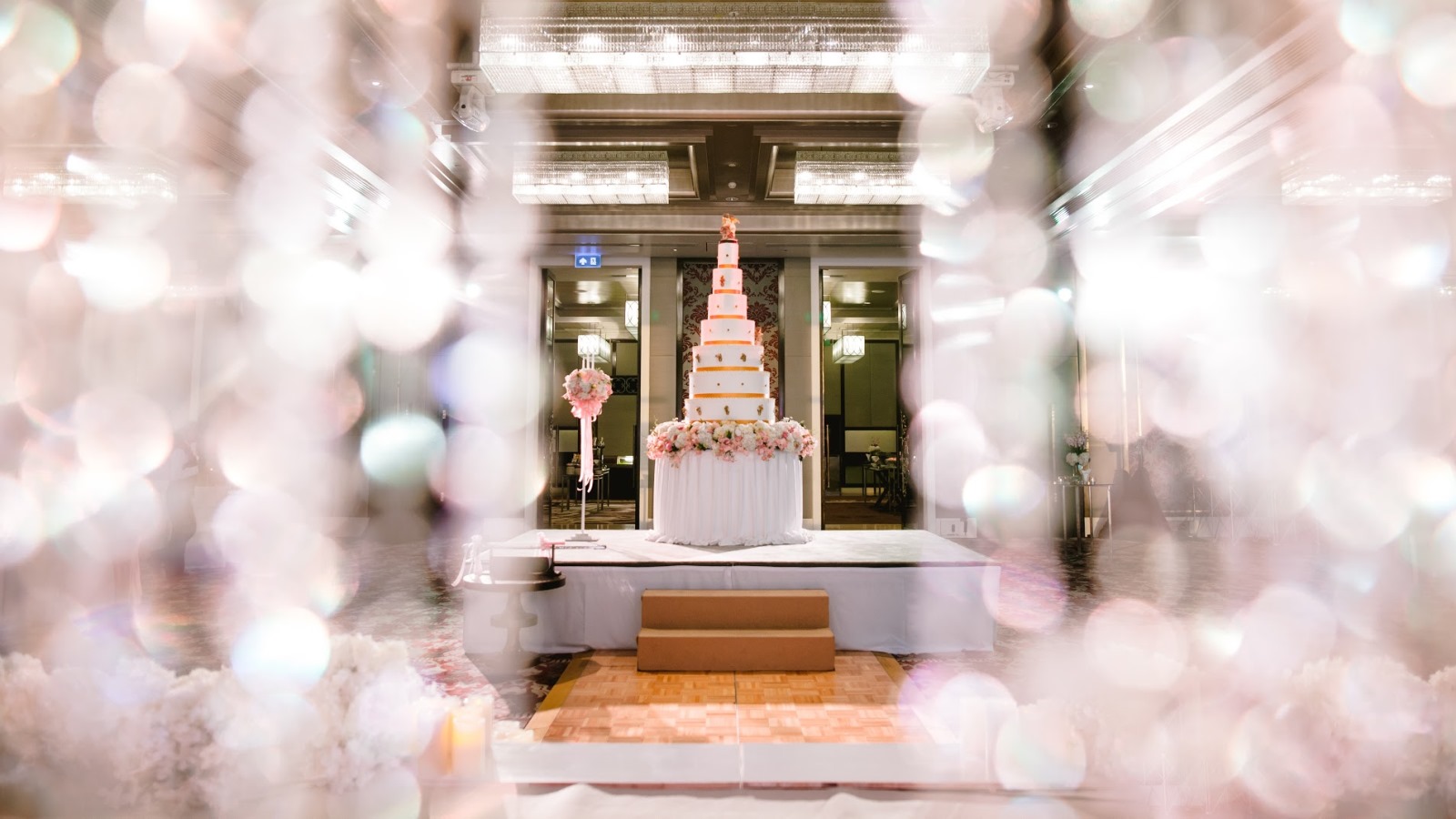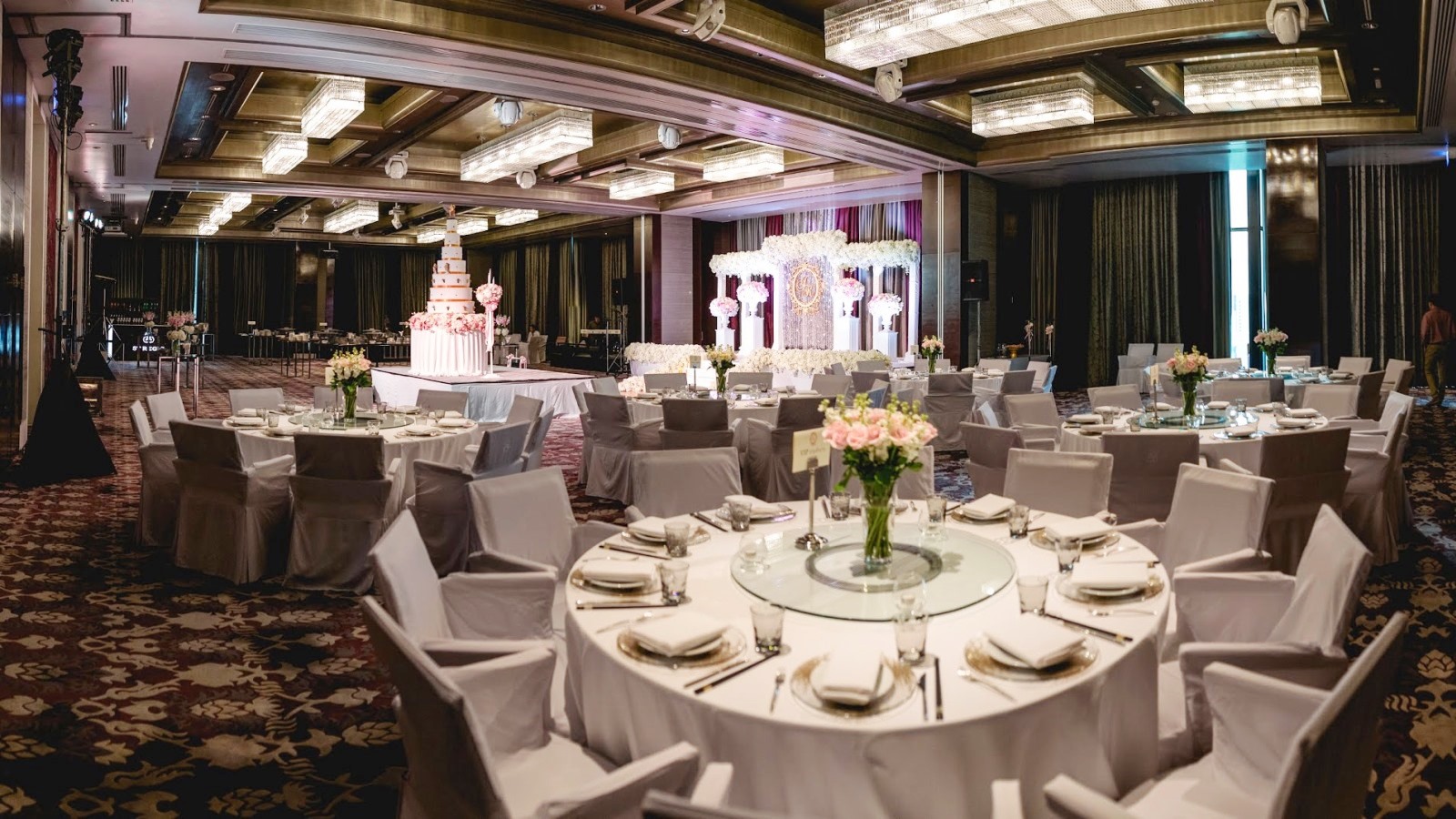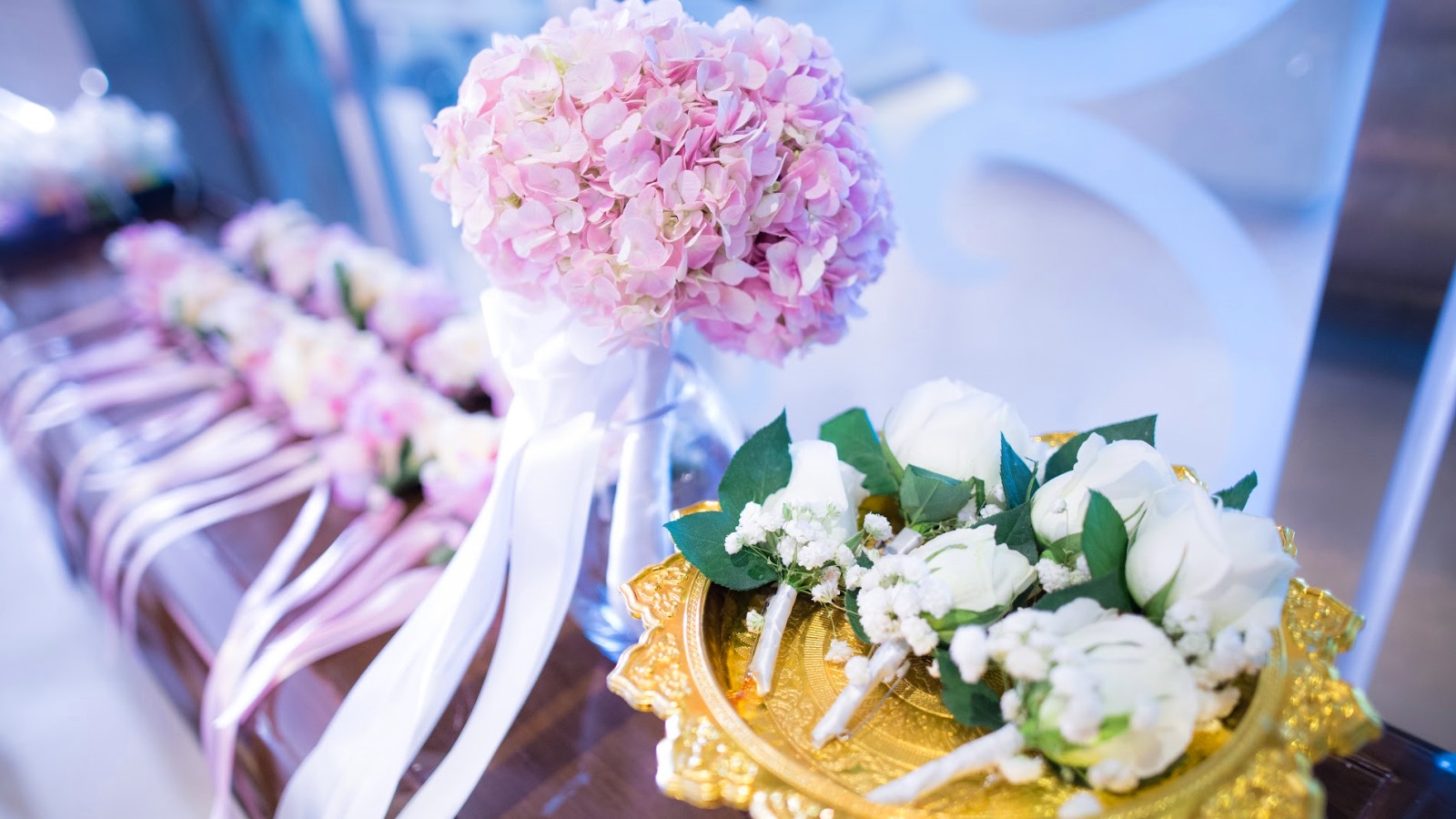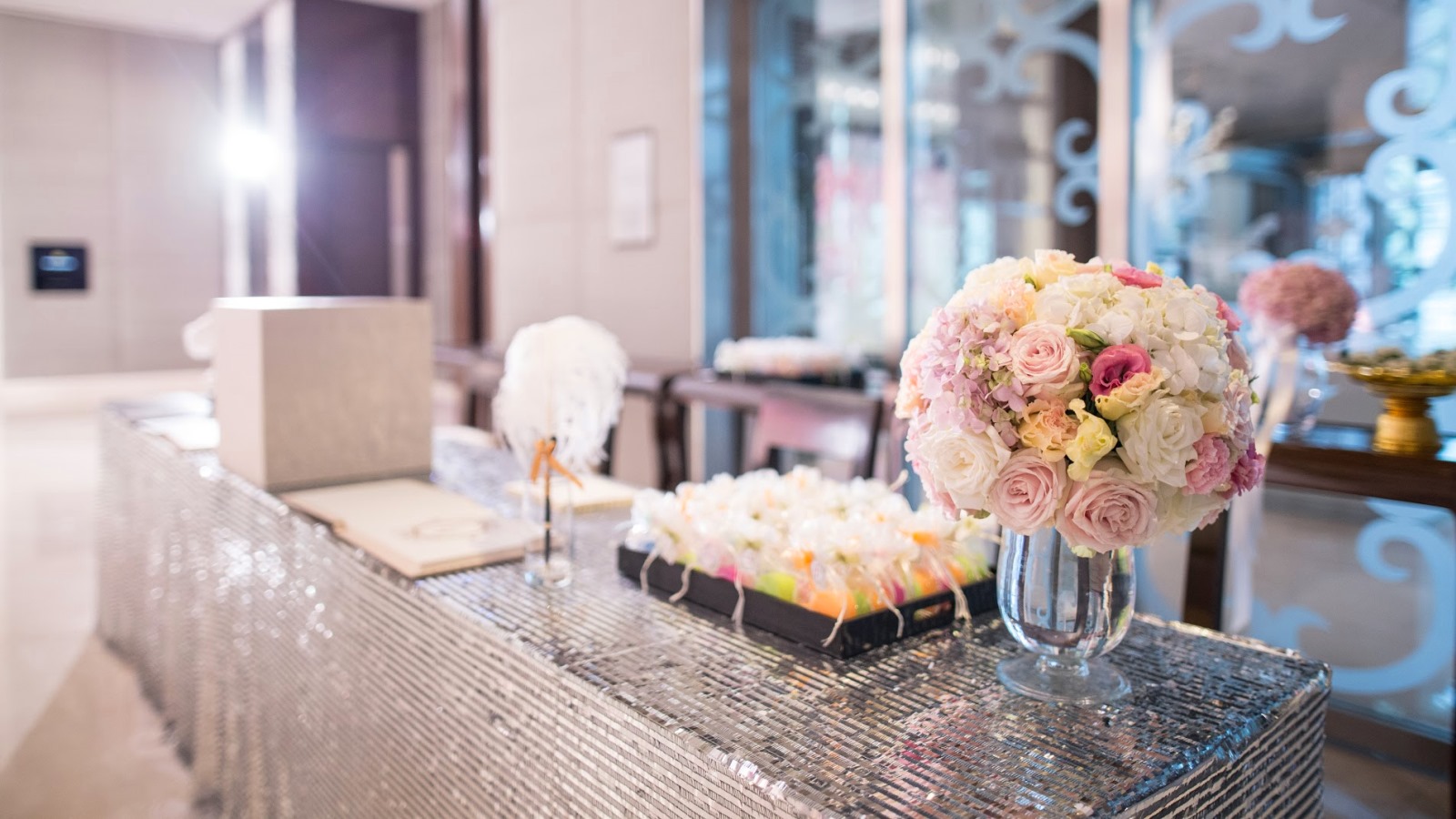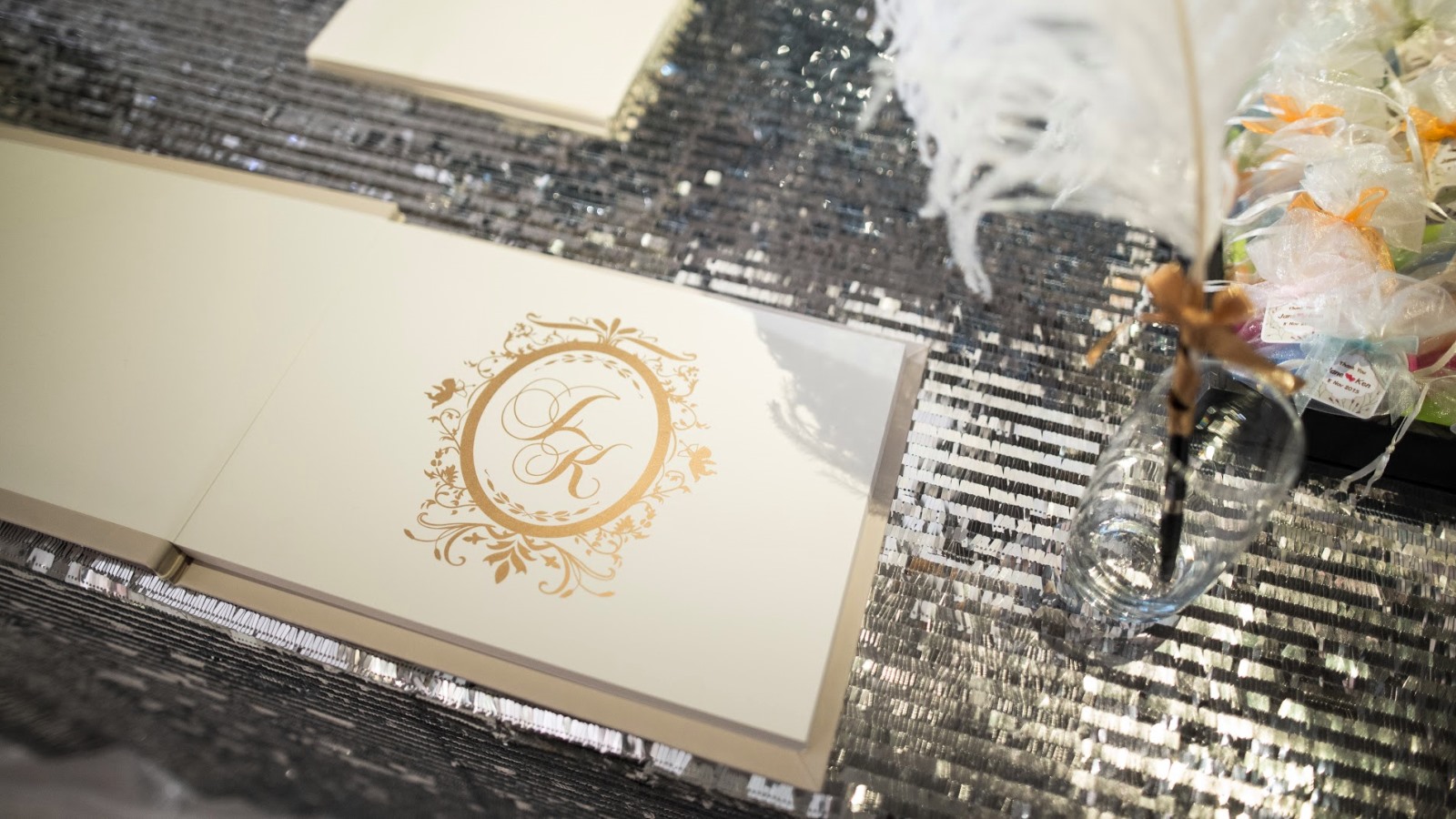 THE BALLROOM
Located on the 14th floor and accessed by a sweeping staircase, the Astor Ballroom provides the perfect setting for an elegant wedding.
With its silk-embroidered fabric walls and crystal chandeliers it comfortably accommodates 300 guests for sit-down banquets and up to 475 for grand receptions. Offering a captivating view of the city skyline, the greenery of the local parks and the golf course, the timeless tradition of white glove service lives on, whereby every detail is designed to leave a lasting impression on discerning individuals.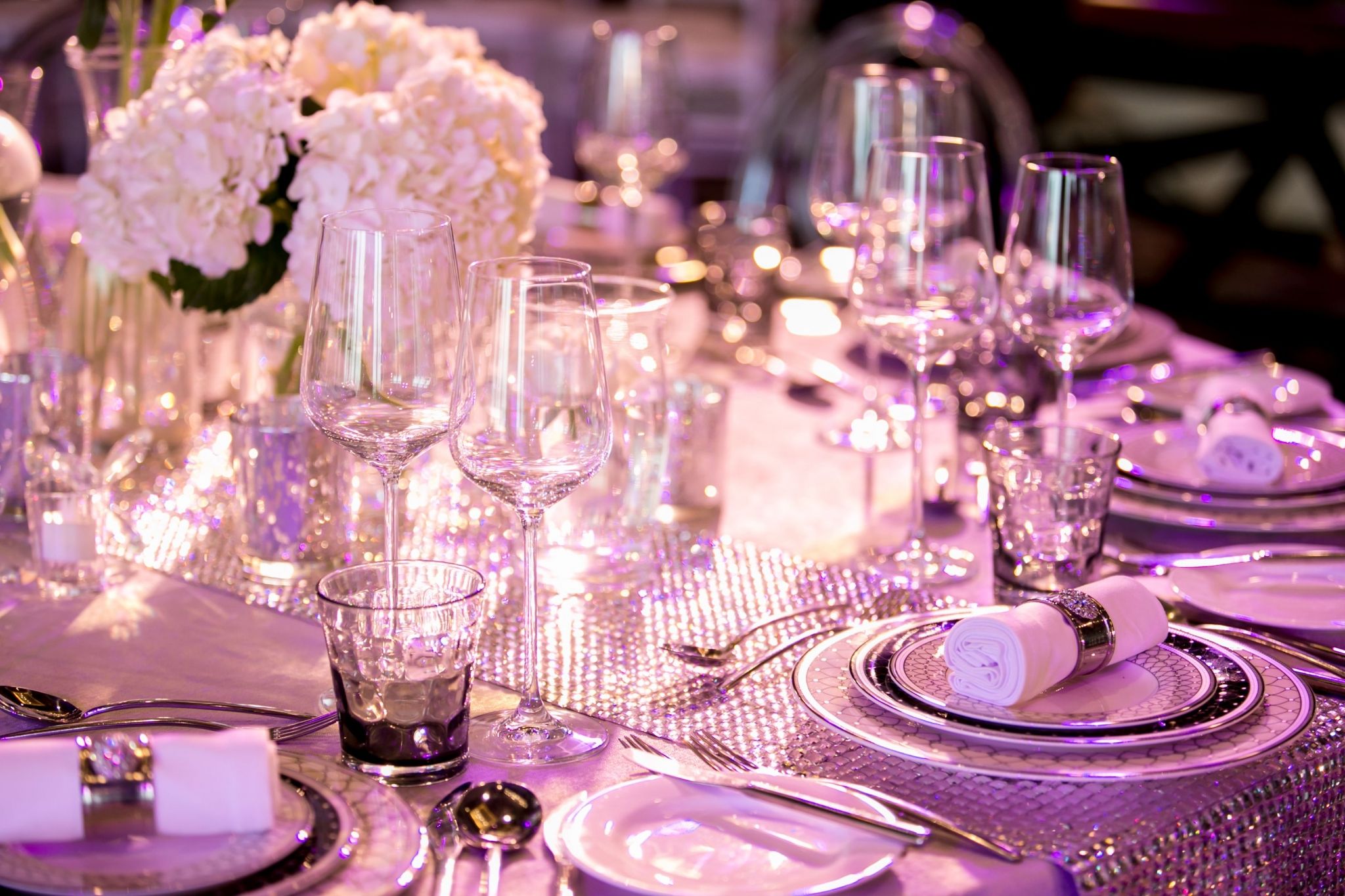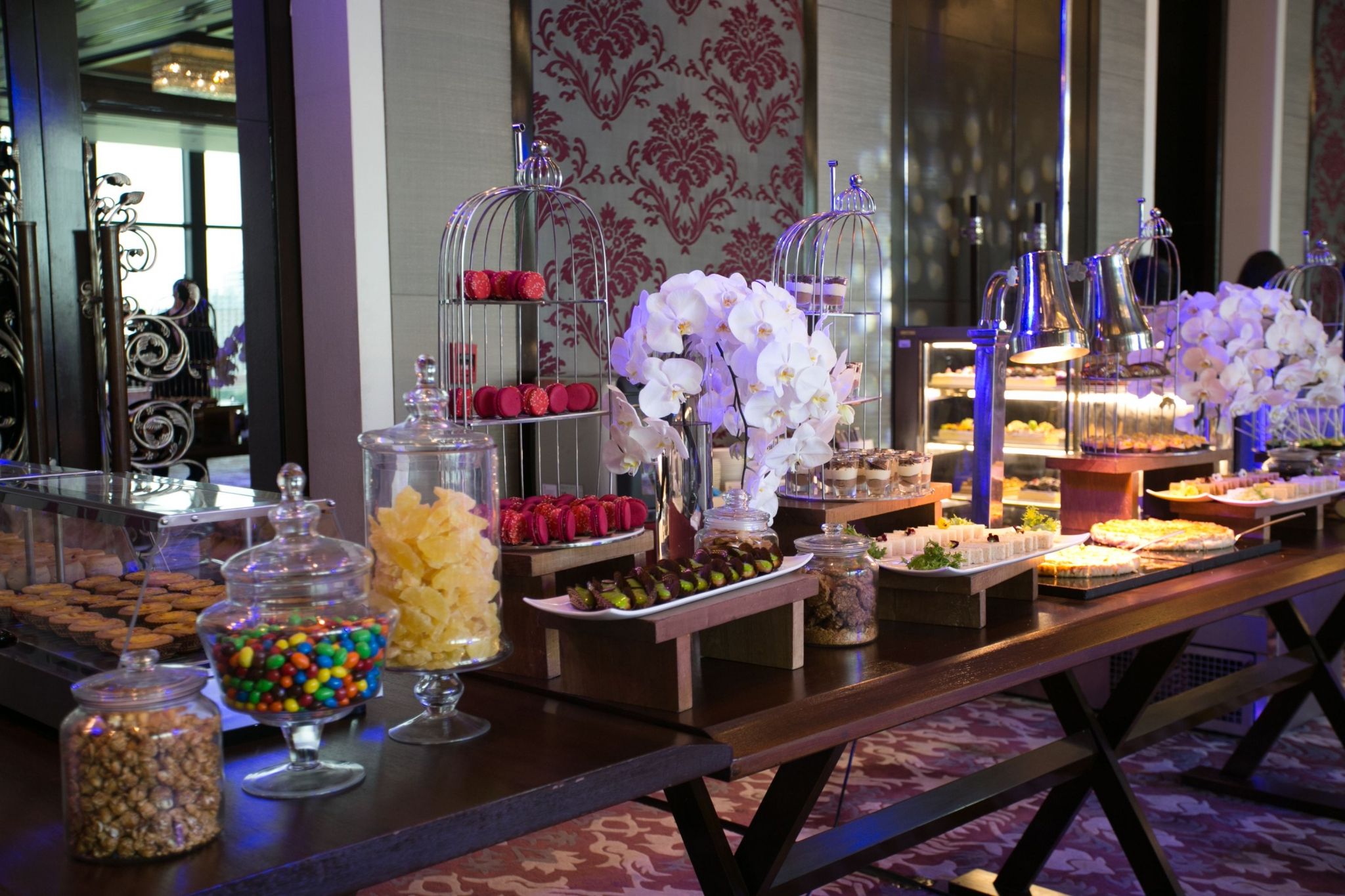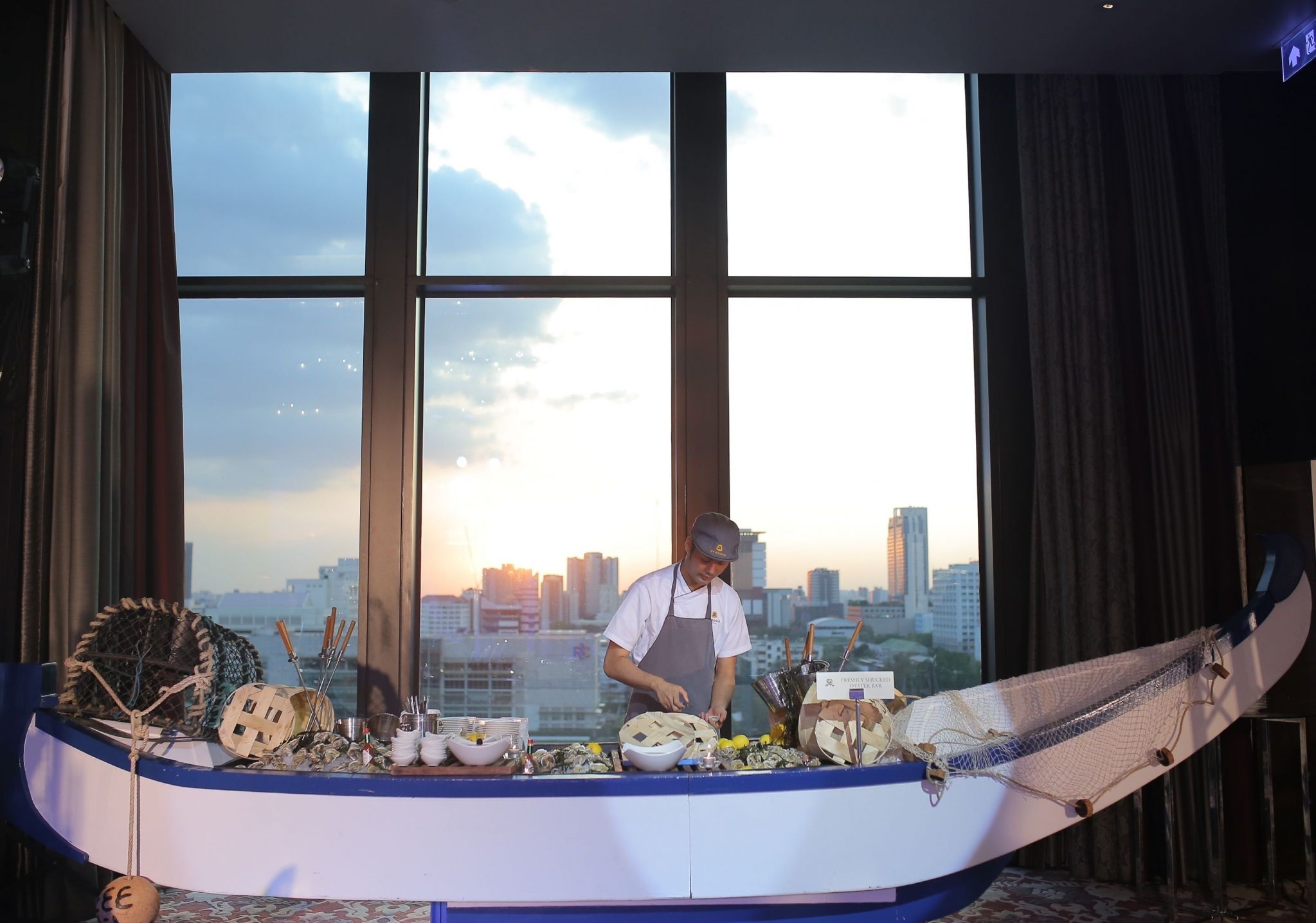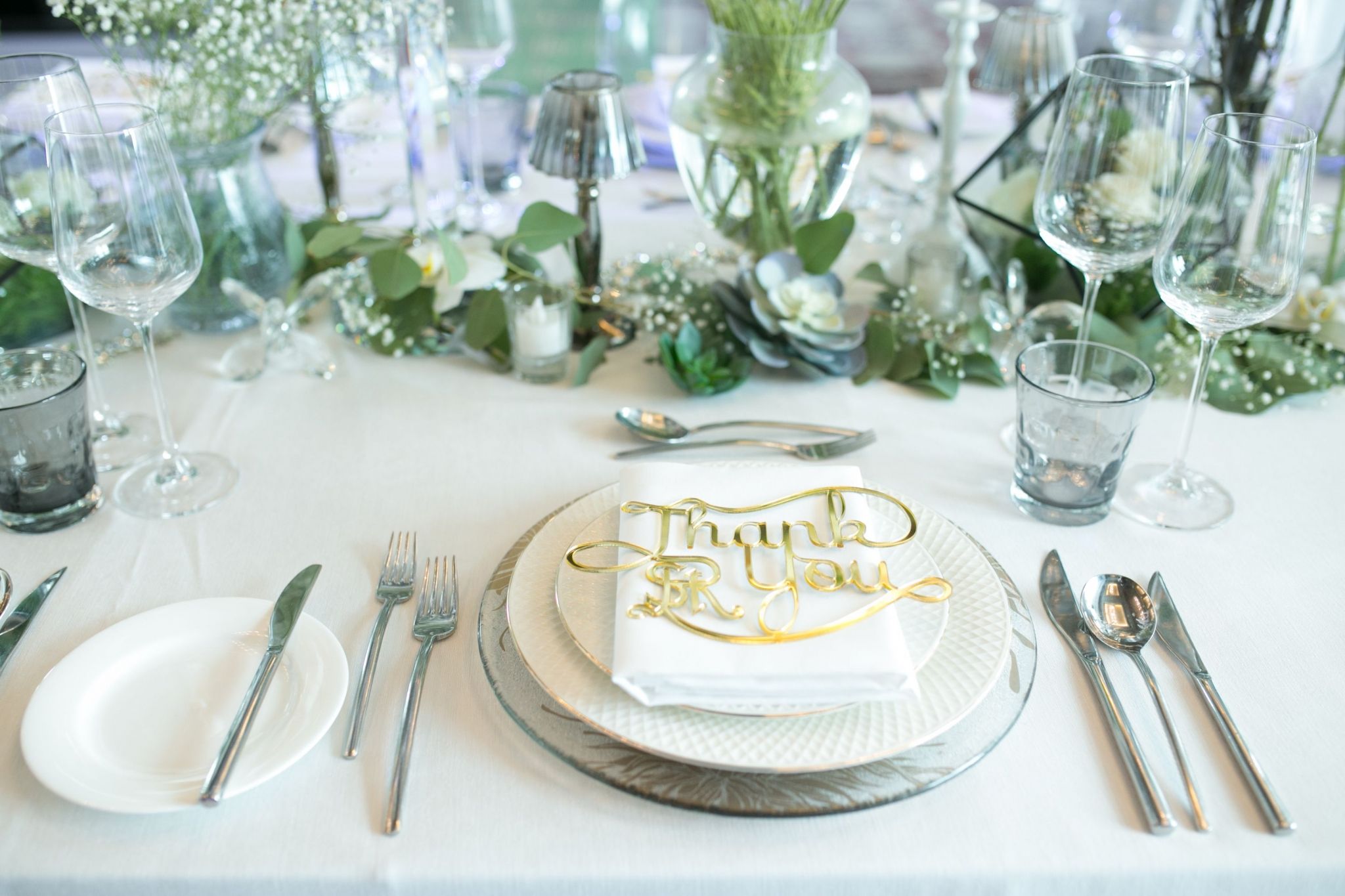 THE CUISINE
Prepared by a passionate and gifted culinary team our cuisine emphasizes on world-class epicurean experiences and bespoke service as they collaborate with each bride and groom to create a personalized menu reflecting individual tastes and character.
Creations using only the freshest ingredients from both locally produced and international markets are crafted to seduce the most discerning palates. Whether you desire a luscious Thai menu featuring such specialties as barbecued duck and jellyfish salad with cucumber and peanut dressing, or Western style cuisine such as marinated Scandinavian King salmon and desserts such as cappuccino crème brûlée with crispy lemon biscotti, we are pleased to create a wedding menu that reflects your every wish.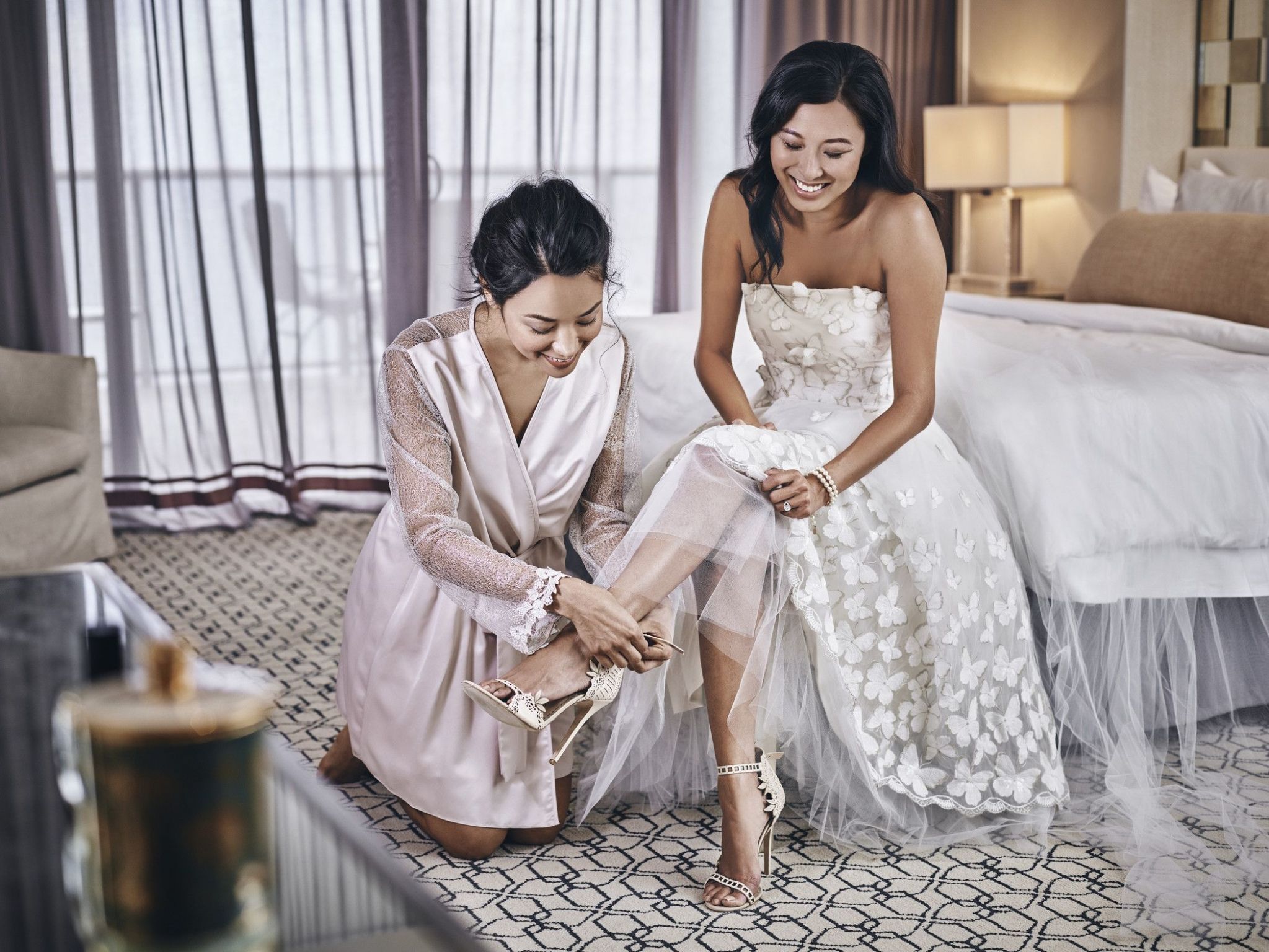 BESPOKE ARRANGEMENTS
St. Regis brides and grooms receive the highest level of care and attention, from their first meeting with our experienced staff to the ultimate moment of their enchanted gathering.
We invite you to be inspired be our list of bespoke arrangements. Learn more HERE.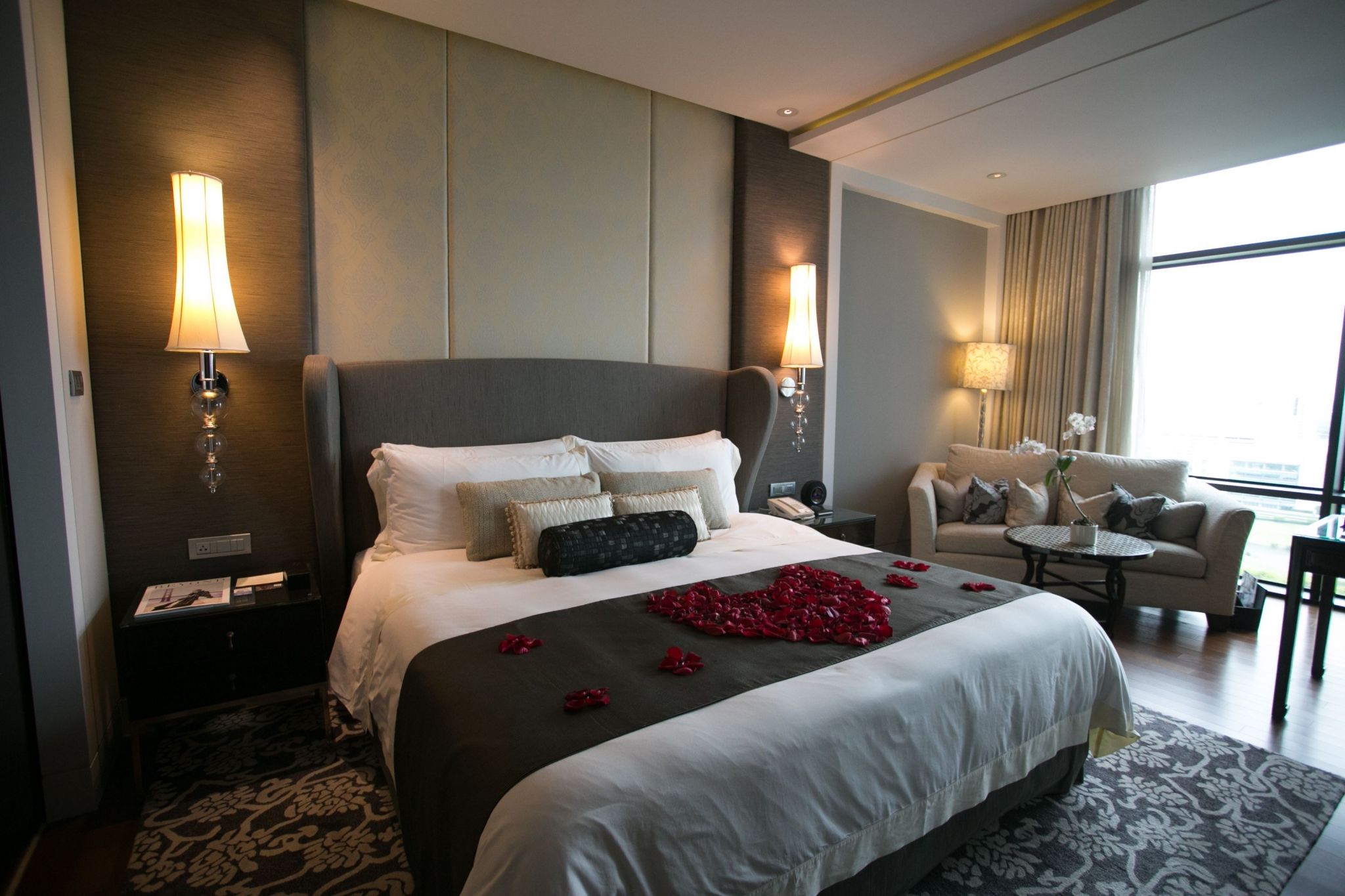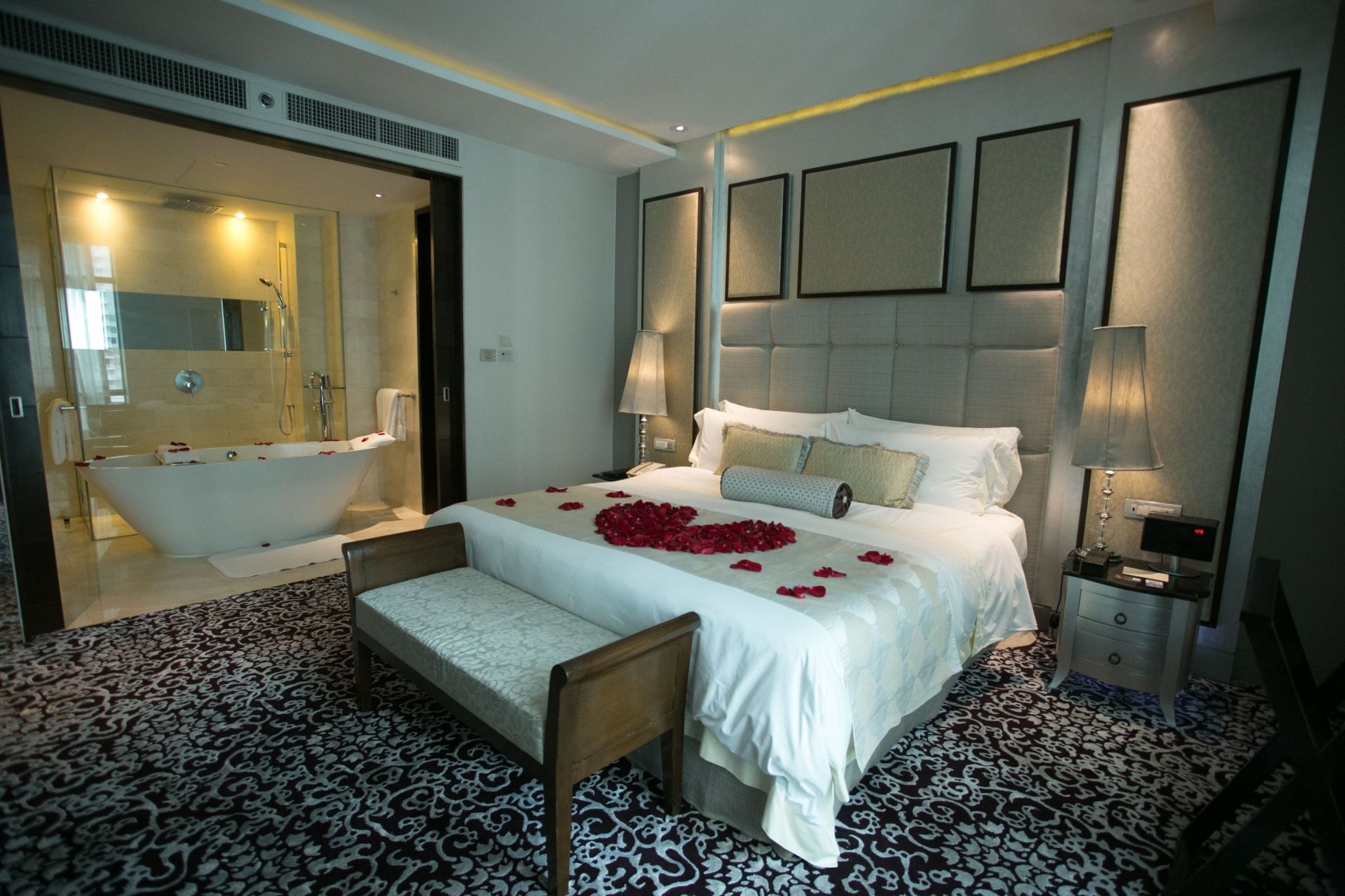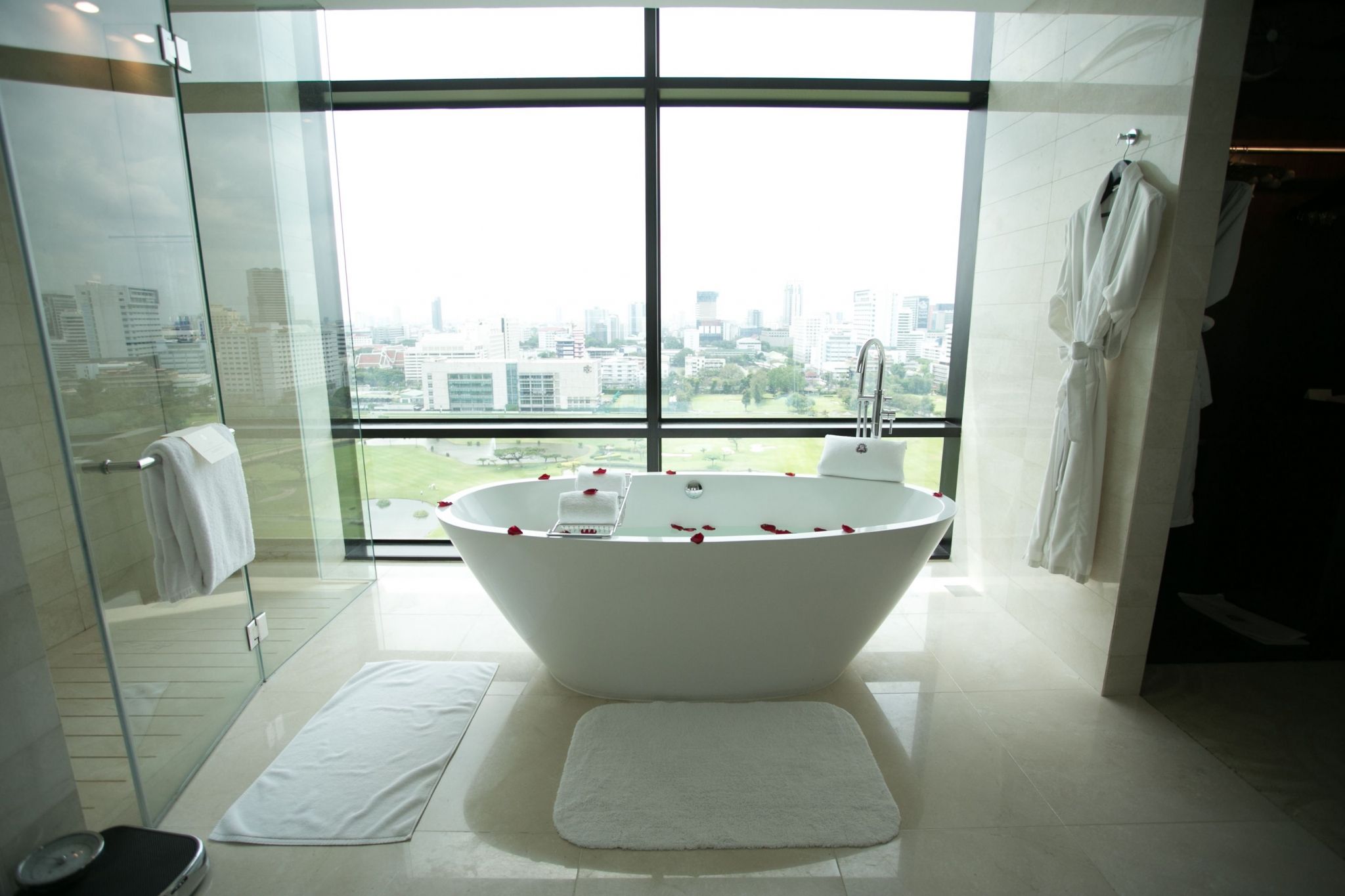 THE ST. REGIS SPECIALIST
Contact our St. Regis Specialist and explore exceptional rates for your friends and family at The St. Regis Bangkok. From custom flower arrangements to room décor to accommodations for your guests, our specialists will assure that each need is flawlessly met. We look forward to creating indelible memories for you to share.
The Marchesa Bridal Capsule Collection for St. Regis Hotels & Resorts
Be inspired by an array of bridal couture, including the exclusive Marchesa Bridal Capsule Collection for The St. Regis, created by The St. Regis Connoisseurs, Keren Craig and Georgina Chapman.
Learn More: st.regis.com/marchesa
Also, sample a selection of world-class cuisine, as you meet the wedding planners, who will orchestrate your wedding dreams into reality.